Waterproof Cell Phone Bag Dolphin
00080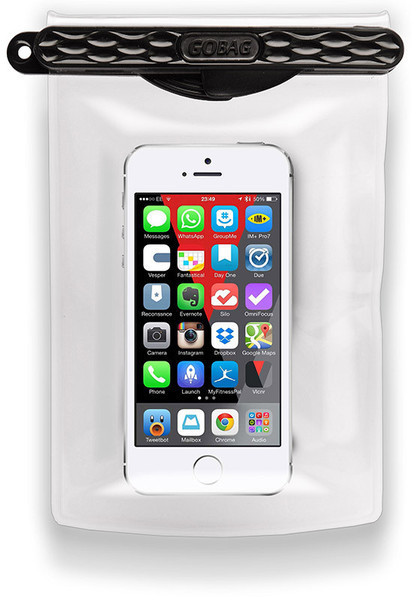 DOLPHIN
The Dolphin style is the most versatile waterproof GoBag in the market. It is great protection for any of your important personal items. Measurements are: 6 inches (15.5 cm) x 3.5 inches (8.9 cm) 6.4" (16.6 cm) x 4.4" (11.1 cm).
NOT ALL DRY BAGS ARE CREATED EQUAL. WATER PROOF | 100 FT (30 M)
PROTECT YOUR PHONE, WALLET, KEYS, CAMERA AND MORE.
WORLD'S ONLY MAGNETIC SELF-SEALING DRY BAG
"SEAL IT TO BELIEVE IT"
COMPATIBLE

• iPhone 4, iPhone 4S, iPhone 5, iPhone 5S, iPhone 6
• iPod Touch
• Samsung
• HTC
• Motorola

FEATURES
WATERPROOF:
• Waterproof to 100 ft. (30 m) and magnetic double seal keeps out sand, dust-proof to a hermetic level

TOUCH SCREEN READY
• Manipulate touch screen, buttons, and switches directly and easily through the GoBag.
FULLY FUNCTIONAL:
• Phones and electronics are fully functional through the dry bag, allowing for voice and audio without the need for headphones or audio jack.
WATERPROOF CAMERA:
• Turn your existing camera into an underwater camera. High-Quality TPU (BPA-free) doesn't interfere with clear shots.
SELF SEALING:
• World's only fool proof and fumble free automatic magnetic closure ensures waterproof seal every time!