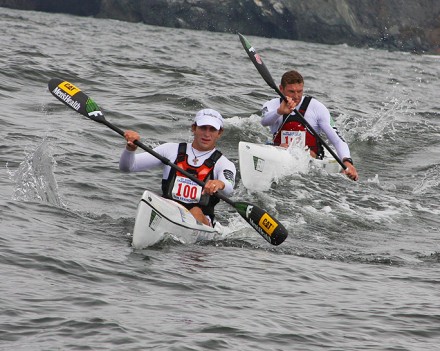 Dawid and Hank racing at the turn buoy. To view the entire sequence go here www.oceanpaddlesports.com/site/index.php/gallery/c32/
Great weekend for Fenn and Team Oceanpaddlesports…
Top 3…Hank, Dawid and Steve…Patrick 5th, Nikki 8th and 1st place women by miles, Erik 6th, Noah 9th. Eva first in the short course.
First place doulbes, mixed doubles and relay…Go Fenn Go.
My full race report will follow with a race summery from my perspective on the beach (shoulder injury) and some outstanding John Brownlee photos.
I was bummed to say the least not to race more than 20 minutes this weekend, but thrilled to be a part of such a great event with fantastic people. Right on Billy and Tracy..we are all full kit!!!