Calf Safety Leash
00019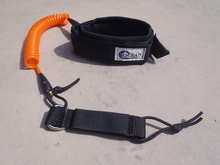 A must have when paddling alone, in high wind or swells.
Don't let your craft get away from you.
Extends to about 6'. Attach to your calf and craft's foot strap or anchor.

This leash is made to keep your ski close to you in high winds when you fall off. Do not wear in breaking waves in and out the surf zone!
Made in the USA by Bullys.
cord color
Blue (0) Black (0) White (0) yellow (0) orange (0)